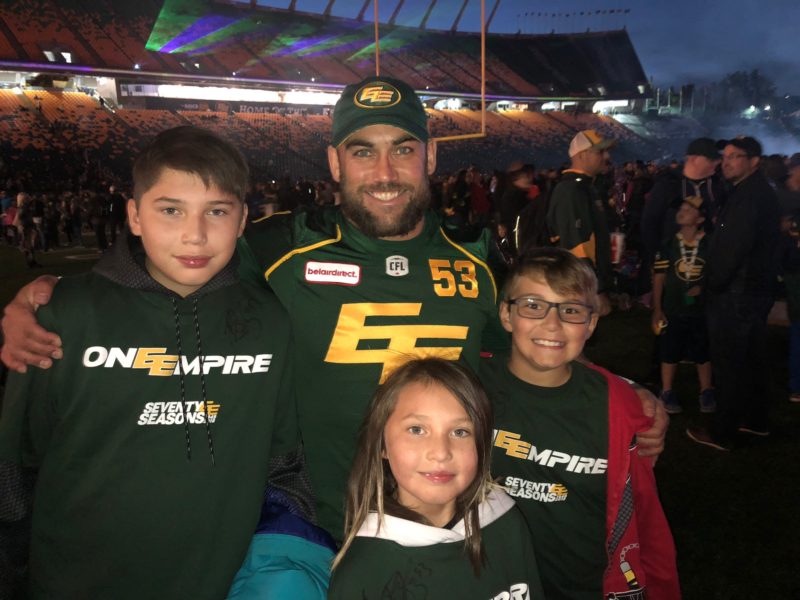 Edmonton Football Team Long Snapper Ryan King has always believed Edmonton is the city of Champions. His belief became reality in 2015 when after a 10-year drought the Edmonton Football Team finally brought the Grey Cup back to his hometown. Ryan was drafted to the Edmonton Football Club in 2012. In College, Ryan played for Saint Mary's University (08-11) where he recorded 114 Defensive tackles as the team's Middle Linebacker and was an All-Conference Linebacker in '10. Prior to College Ryan was an All Canadian Linebacker for the Edmonton Wildcats CJFL (04-07) and in 2007 was awarded- CJFL Defensive Player of the Country. Ryan started his career playing for the Sherwood Park Northstars before moving onto Bev Facey High school (01-03).
As an active member of the community, Ryan is a member of the CFLPA as well as a spokesperson for ACWS (Alberta Council of Woman's Shelters). Ryan speaks out against domestic violence and provides tools for youth to curb the cycle of abuse. In 2015 Ryan was awarded the David Boon Award. The honour is awarded annually to the Eskimo who best displays the characteristics on the field and in the community that Boone stood for. In 2018 he was the recipient of the Tom Pate Memorial Award for outstanding community service. Selected annually by the CFL Players Association, the award focuses on both sportsmanship and a significant contribution to his team, his community and the association to the point where it distinguishes him from every single one of his peers currently playing in the league.
In 2017 Ryan created King's Kids and partnered with KidSport. King's Kids is focused on working with Edmonton's most underprivileged youth while proving support through sports and mentorship. King's Kids has provided over 50 kids in the local community a once in a lifetime VIP GAMEDAY EXPERIENCE program. King's Kids has a passionate and motivated team to support the plan of having a long-lasting impact in the community.