Start your application here. Scroll down to learn more about our program and get answers to all of your questions.
KidSport provides grants to kids from families facing financial barriers so they can participate in registered sport programs and experience the lifelong benefits of a season of sport. KidSport Cranbrook provides grants of up to $300 per eligible child, per year (January 1st - December 31st) towards sport registration fees.
Do you need equipment in order to play? Let us know, and we can make a referral to a partner agency. KidSport grants are intended to be used for sport registration fees; travel and competitions are not eligible for funding.
KidSport Cranbrook uses Canada Revenue Agency (CRA) Notice of Assessment to determine financial eligibility for grants provided through the Provincial Fund.
Applications will be considered when without KidSport support the child would not be able to participate in the sport
Children ages 18 and under are eligible to apply for a grant
Grants are to be used for the payment of sport participation/registration fees up to the maximum established by the chapter
Camps, equipment, lessons, travel to playoffs, fundraising, championships, etc. are not eligible expenses
Applications must be received prior to, or at the beginning of the requested season of sport
Sport activities must demonstrate a sustained sport experience (a season of sport led by a qualified coach) and the sport activity must be affiliated with the member sport organizations of Sport BC
Applications must be filled out completely
Consideration
KidSport™ considers the social and economic barriers facing the athlete's family when determining eligibility for funding. To help manage the increased demand and to ensure fair distribution of funding, the following screening criteria will be applied:
Unsuccessful applicants will be notified as quickly as possible
Canada Revenue Agency low-income guidelines are used in determining eligibility
Sport Organization or School Name
Local club must be a current member of a provincial sport governing body through Sport BC (www.sportbc.com)
Sport activities must demonstrate a sustained sport experience led by a qualified coach
Only seasons of sport through community sport clubs or approved school programs are eligible for funding
Partner Organizations
Arq Climbing
Cranbrook Badminton Club
Cranbrook Curling Centre
Cranbrook Minor Ball
Cranbrook Minor Hockey
Cranbrook Skating Club
Eagles Boxing
East Kootenay Volleyball Club
Easy Kootenay Adaptive Snowsports
Judo - The Rocky Mountain Nippon BudoKai
Key City Gymnastics
KEYSA – Soccer
Kimberley Alpine Club - Skiing
Lacrosse (Badgers Sports)
White Tiger Tae Kwon Do
School sports
Parent/Guardian & Financial Income
A parent or guardian must initiate the application on behalf of the athlete applicant
It is the responsibility of the parent or guardian to ensure the application is complete and submitted to KidSport™
The income guidelines are used for funding eligibility decisions
Combined family income includes income from all supporting family members
A copy of your previous year's net income (Income Tax Return) is requested for verification of financial status and must be uploaded in the documents and attachments section
Income Guidelines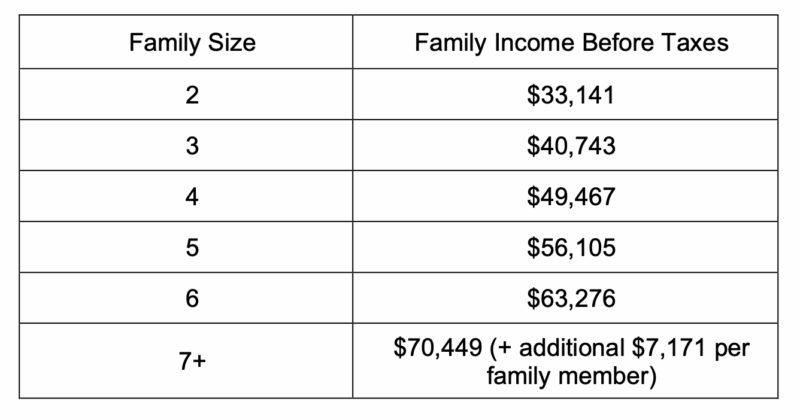 Once the completed application is received and approved by KidSport™, a cheque will be sent directly to the sport organization
Grant Distribution
Please allow a minimum of 60 days for review of the application; processing time will vary depending on the availability of funds
Application Approval
Notification of the status of the application will be sent to the parent or guardian via email as soon as possible. If the application is approved, a copy of the letter of notification may also be sent to the sport/recreation organization specified on the application and other sport organizations as required. The parent, guardian, or sport/recreation organization must notify the KidSport™ chapter in their area or KidSport™ BC if the athlete withdraws from the sport activity. The grant must be used by the athlete for whom the grant was approved; no portion of the grant can be transferred to someone else.
Privacy / Confidentiality
KidSport™ respects your privacy. We never sell, trade or loan your information to any other organization. Information provided in this application is being collected for the purpose of administering KidSport™. This information will only be disclosed to KidSport™ personnel who need the information to carry out the responsibilities of their job, and to other organizations who may need to be contacted in order to process the application. Statistics are reported at the regional, provincial and national level. Individuals are not personally identified. By completing this application form you agree to have all collected information stored in our online database system. For more information on our privacy policy, please visit www.KidSport.ca/Legal.
If you are unsure of your eligibility to receive a grant, please reach out to kidsportcranbrook@sportbc.com
Find a sport program your kid would like to join and sign up. Let the program's administrators know you will be applying for KidSport funding.
Apply online or use the paper application form - be sure to complete all sections of the application, as incomplete applications take much longer to process, and can cause delays in receiving your grant.
Your completed application will be processed within 60 days of being received. If you qualify for KidSport funding, the grant will be sent directly to the sport program your kid has signed up for.
Paper applications can be picked up and dropped off at the Aquatics Desk in Western Financial Place, 1777 2nd Street North, Cranbrook, BC V1C 7G9
You can also submit a paper application by mail or e-mail to:
117 19th Street South
Cranbrook, BC
V1C 0E1
kidsportcranbrook@sportbc.com
Or, send us a paper application:
We're always happy to answer your questions. Please send an email with your question to kidsportcranbrook@sportbc.com