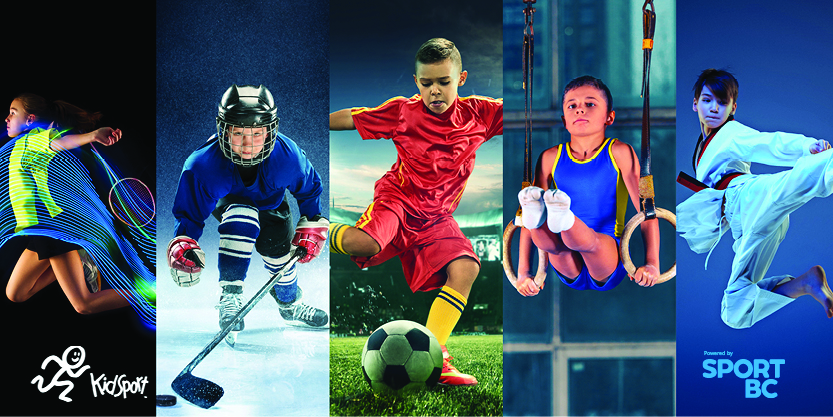 With your support, KidSport British Columbia helps local kids experience the lifelong benefits of sport; kids learn leadership, hard work, dedication, and self-confidence, and build the habits and support network necessary to become healthy adults.
Through sport, kids also gain access to mentorship and guidance from experienced sport leaders, further developing their skills, and helping them grow into our future community leaders.
Sport is one of the best gifts a kid can receive. Your donation to KidSport British Columbia helps us make it So ALL Kids Can Play!
KidSport British Columbia gives up to $400 per eligible kid per year, to participate in a season of sport of their choice. Will you give the gift of sport today?
Thank you for believing in the power of sport! You are helping get more kids off the sideline and into the game.
Our Mission:
We believe that no kid should be left on the sidelines and all should be given the opportunity to experience the positive benefits of organized sports. KidSport provides support to children in order to remove financial barriers that prevent them from playing organized sport.
We work to remove the financial barriers that prevent some children from playing organized sport!
Our Vision:
#SoALLKidsCanPlay!
We believe that every child should have the opportunity to experience the joys of a season of sport. Abundant research exists that proves sport participation enhances academic performance, improves health and develops valuable life skills in the areas of teamwork, socialization, goal setting and time management.
Community benefits of KidSport:
KidSport believes in the values and benefits of kids playing organized sport and we know that sport will provide them with the opportunity to:
• Become physically active
• Improve their self-esteem and self-confidence
• Learn life-long skills
• Improve their academic performance
• Make new friends
• Share and celebrate their culture
• Contribute to a strong, healthy community
How we started:
KidSport is a program of Sport BC created in 1993 to help address the financial challenges faced by many families when registering their children in organized sport. From a modest start in that first year, issuing $35,000 in grants, KidSport has grown exponentially across the country and has become a truly national entity with 11 provincial/territorial chapters and over 180 community-based chapters.
From humble beginnings, KidSport BC now issues over $2 million in grants to over 7,300 kids annually and has seen significant annual growth, particularly in the years subsequent to the 2010 Winter and Paralympic Games in Vancouver.
PREFER TO DONATE OFFLINE?
Download and send in the KidSport Donation Form. Our CRA Charitable registration number is 86212 5986 RR0003 .
Donate a Car Canada will look after all the details to make it easy for KidSport Canada to benefit from your old car.
By donating appreciated stocks, mutual funds, or stock options, you pay no tax on the capital gains and receive a tax receipt for the fair market value of the securities.
Legacy donations aren't just for the ultra-wealthy; anyone can make a plan to reduce their family's tax burden by donating to KidSport in their will.
Businesses across Canada sponsor KidSport nationally, provincially and locally to make sure we can get as many kids access to sport as possible.