ANGELA CHALMERS WAS AN OLYMPIC BRONZE MEDALLIST
Angela Chalmers' thoughts turned to her father after the biggest race of her career.
"I told my dad back in 1984, just before he died, that I'd win an Olympic medal,"
Chalmers told the Winnipeg Free Press after winning a bronze medal in the 3,000-metre race at the 1992 Olympics in Barcelona.
She was also running for her mom, who was at home on the Birdtail Sioux First Nation reserve in Manitoba. 
"I really wanted to get my mom over here for this,"
she told the newspaper. 
As the bell went for the final lap of the 3,000 metres in Barcelona, Chalmers had six runners slightly ahead of her. She was in fourth spot with 100 metres to go and used a strong sprint to claim the bronze medal. Chalmers finished in a time of 8:47.22, which was 0.19 seconds faster than the fourth-place runner. 
She had a knack for coming from behind in important races. 
In 1990, Chalmers won gold for Canada in the 1,500 metres and 3,000 at the Commonwealth Games in Auckland, New Zealand, becoming the first female to win both races at a Commonwealth Games. In the 1,500, she was in third place with 100 metres to go before crossing the tape as champion. In the 3,000, she was in second spot with 100 metres to go before winning the race in a Commonwealth Games record time of 8:38.38. Chalmers was named the 1990 Manitoba Female Athlete of the Year by the Manitoba Sportswriters and Sportscasters Association. 
Chalmers was chosen as Canada's flag-bearer for the opening ceremonies at the 1994 Commonwealth Games in Victoria, where she was living at the time. She went on to become the first female to repeat as Commonwealth Games champion in the 3,000 metres. 
"Before the race started, I almost started crying because everyone was starting to cheer already,"
Chalmers said in a TV interview after the race. 
She bettered her Commonwealth Games record by winning the race in a time of 8:32.17. She gave the flowers that were presented to her to her mom in the crowd and did a victory lap around the track with a spring in her step, waving to her hometown supporters.
"Knowing every person in the stands – or almost everyone – is behind you, I just used that to my advantage"
Chalmers began competing in track and field at about age nine.
"I had always been running,"
she told Wendy Long in her book, Celebrating Excellence: Canadian Women Athletes.
"I was always trying to race somebody. I ran to school. I ran home."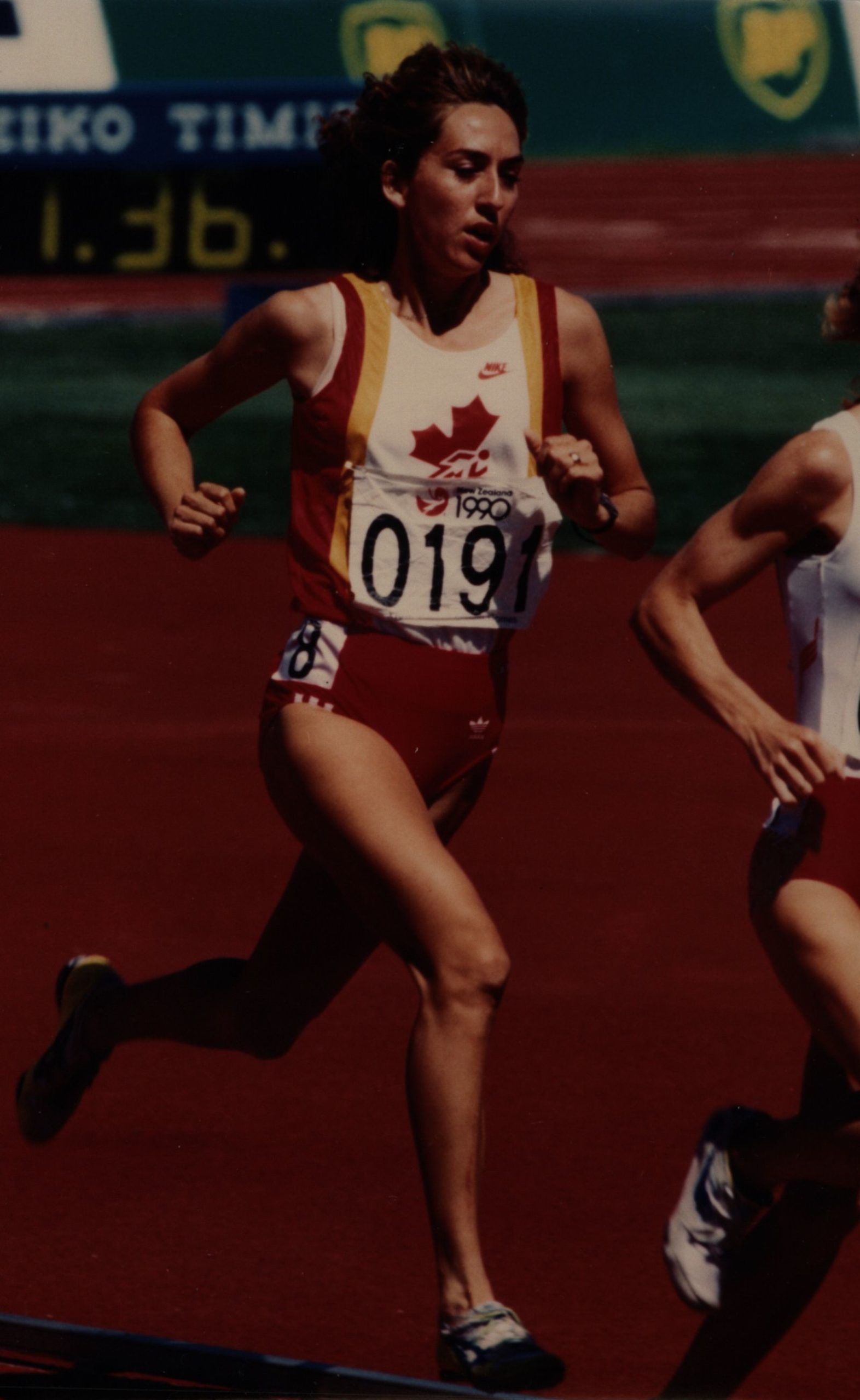 Born in Brandon, Chalmers grew up in a family of nine children. She spent several years of her youth in B.C. before moving back to Manitoba. She won the Canadian junior 1,500-metre title at age 14 representing Shilo, Manitoba. She also claimed silver medals in the 800 metres and 1,500 at the 1981 Canada Summer Games in Thunder Bay. 
She starred in track and field at Neelin High School in Brandon. In 1981, Chalmers won the 800, 1,500 and 3,000 races at the provincial high school championships. She was inducted into the Manitoba High Schools Athletic Association Hall of Fame in 2009. 
Chalmers won a bronze in the 3,000 at the Summer Universiade (World University Games) in 1985. Representing Northern Arizona University, she was the individual champion at the 1986 NCAA Division 1 cross-country championships.
In 1987, she earned a silver in the 3,000 at the Pan American Games in Indianapolis. 
She received the National Aboriginal Achievement Award (Indspire Awards) in the sports category in 1995.
In her book, Heroines of Sport: The Politics of Difference and Identity, Jennifer Hargreaves quotes from a 1999 Vancouver Sun article about Chalmers.
"She was touched deeply by a letter a teenage girl from a Sioux reserve in Manitoba recently sent her, extolling Chalmers for her achievements and telling her about herself. 'I thought, I have to write to this girl and I have to make a difference to one of these young Aboriginal youths,' Chalmers said. 'I have to somehow do that. If I can do that, I'll have accomplished much more than winning medals.'" 
Chalmers raced in the 1,500 and 3,000 at both the 1988 Olympic Games in Seoul and the 1992 Olympics in Barcelona. 
She was inducted into the Athletics Canada Hall of Fame in 2019. At the time of her induction, she still held Canadian records in the 2,000-metre and 3,000 distances, setting both records in 1994. 
"A member of the Birdtail Dakota Nation, Chalmers was an extraordinary role model for Aboriginal children and generously donated her time to speak to those living in First Nations communities about the importance of sport," 
Athletics Canada wrote in a news release announcing her Hall of Fame induction. 
This story is taken from Iconic Stories from 150 Years of Sport in Manitoba, a book that celebrates iconic Manitoba sports stories spanning the province's entire 150 year history. Stories cover a wide variety of athletes, teams, events, facilities, and organizations in this one-of-a-kind collection. All proceeds from the sale of Iconic Stories from 150 Years of Sport in Manitoba will be donated to KidSport Manitoba, so ALL Kids can play.
Iconic Stories from 150 Years of Sport in Manitoba is available now for the special price of $20.20. To purchase your copy of the book, click the button below to be redirected to our online store. Options for shipping, ebook, and contactless pickup at Sport Manitoba are all available.