KidSport™ Ontario is pleased to announce the appointment of Tommy Wharton its leadership group. Mr. Wharton will join the Board of Directors of Play For All Sport Initiative, which is the organization that holds the license to operate KidSport in Ontario.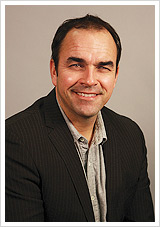 Currently the Senior Project Lead at the Ontario Sport Network, Tommy has held the posts of Director of Sailing at the Royal Canadian Yacht Club, and Director, High Performance Sport at the Canadian Sport Institute of Ontario. He brings with him a long history of involvement within youth sport programming at Provincial and National levels, as an athlete, coach, administrator, parent, and Senior Executive. Tommy's experience extends internationally, having been both a National Team Athlete and a Coach for Sail Canada, coaching Team Canada in 2004 in Athens and 2008 in Beijing.
"We are delighted to welcome Tommy to the Board of Directors," said Paul Varian, Chair of the Board of Play For All Sport Initiative. "Our new planning objectives have set ambitious targets to grow our KidSport community chapter base in Ontario and raise awareness of KidSport and its simple but compelling message – that all kids, regardless of their financial situation, should have access to the gift of organized sport and all the benefits it brings to them. Tommy has a stellar background in Ontario and Canadian sport leadership and will be enormously helpful in driving the effectiveness of KidSport across Ontario, inside and outside the sport community."
As the Ontario arm of KidSport Canada, KidSport Ontario works closely with community sport organizations and social services groups to ensure children in low-income situations are able to pay registrations fees to play their  sport. Since its creation in 1993, KidSport Canada has disbursed $92M and helped over 965,000 kids from coast to coast to coast receive grants and sport introduction programming, thanks to the support from the Government of Canada, national corporate partners like Saputo, and the generosity of Canadian donors.
"I am extremely excited to join the KidSport Ontario Board of Directors," says Wharton.  "I am really looking forward to applying my expertise and passion for community sport and contributing to the KidSport mantra of "so ALL kids can play". KidSport Ontario is in the unique position of blazing a trail towards increased sport participation in these challenging times as we all navigate the negative effects of the loss of organized sport during the COVID-19 pandemic.  The gift and power of access to organized sport is unlike anything else and can be a true game-changer in kids' lives. I feel youth sport participants need an organization like KidSport now more than ever.  I am really looking forward to collaborating with the KidSport Ontario Board, staff team, as well as the chapter leaders to moving the needle on this important cause."
Learn more about KidSport Ontario by visiting www.kidsportcanada.ca/ontario
-30-
About KidSport:
KidSport is a national not-for-profit organization that supports children who need financial assistance with sport registration fees and equipment costs. We believe that the power of sport participation promotes the development of children's social, mental and physical well being. Through increasing access to quality sport programs, KidSport strengthens communities across Canada. With 160 community chapters across Canada, KidSport provides support to kids from coast to coast to coast. Since its creation in 1993, $92M has been disbursed to over 965,000 kids across the country, offering them the chance to play sport through KidSport grants.
For more information:
Sara Restani
Program Manager, KidSport Ontario
srestani@kidsportcanada.ca
905-977-0496