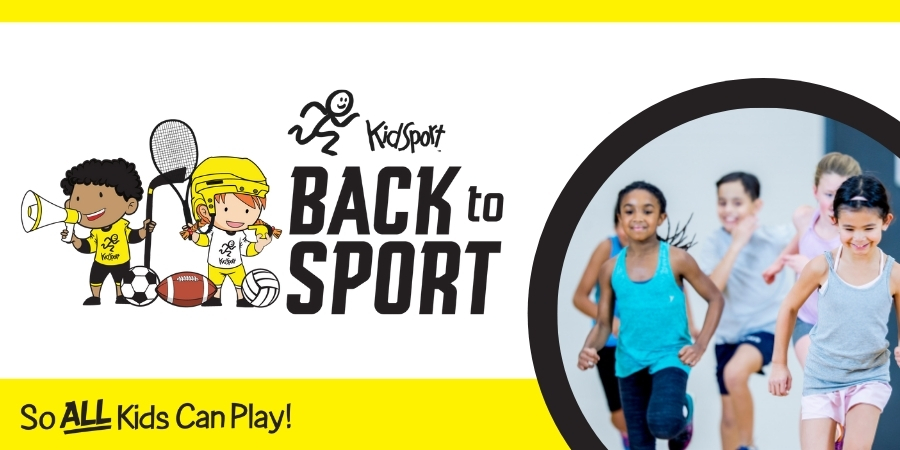 Be part of getting local kids back to sport
Join the KidSport Back to Sport Project.
As sport returns to our communities, it is going to play a crucial role in our recovery. The KidSport Back to Sport Project will ensure KidSport kids have the opportunity to lace up and get back into the game.
Local kids need us now more than ever.
Donate, create a team, challenge your peers, your coworkers and your community as we work to get KidSport kids back to sport. Help us invest in the lives of local kids who need our assist, while also investing in our local economy and sports community as these dollars go back into sport registration fees local sport clubs need to exist.
Dollars raised in your community stay there to support local kids who rely on KidSport so they can play.
Make a one-time donation or become one of our amazing monthly donors for as little as $10 per month.
There are so many ways you can make it So ALL Kids Can Play! Find your way and join the KidSport Calgary & Area team.
GET YOUR GEAR CLEANED
Get your gear cleaned AND help local kids get #BackToSport! We're opening up our Sani Sport Supreme stations to you! $30 gets you a 30 minute cleaning session to get your gear ready for the season. Learn more or book an appointment.
JOIN THE TILLEN CHALLENGE
Take part in the Tillen Back To Sport Community Challenge! Choose from a variety of different activities to take part in this challenge to get YYC #Back2Sport. Learn more.
DONATE YOUR EMPTIES
Sign up for our KidSport Recycling Program and have our team pick up your empties at NO COST right from your doorstep! Saves you a trip to the depot and gives you the chance to turn your empties into sport opportunities for local kids who need our assist. Just call or text 403-680-8776 to schedule your first pick-up!
HOST AN EVENT
Make KidSport your charity of choice for golf tournaments, weddings, birthdays or recognize someone in the community through a tribute donation. KidSport is a great fit for any community event.
KidSport is also a great way to bring your workplace together: Events like Jeans/ Jersey Fridays, holiday parties, client appreciation events, golf tournaments, bottle drives with our KidSport Recycling Program, office olympics, 50/50's and office sport pools are all made better by adding a charitable component. Donate a portion or all of the proceeds to KidSport Calgary & Area.
Need help getting started? Get in touch - we're game for whatever you can dream up!
HOST A FUNDRAISER
Peer to Peer - Create a Team - Join a Team - Have Fun
Register your own team or join an existing team as you have some fun raising some dollars for your local KidSport chapter.
Challenge your coworkers, your clients, friends, family, teammates, other clubs or teams in your sport, your partners or community as you help raise much needed dollars to help your local KidSport chapter get more kids in your community back to sport.
Share your link on social media and let us help you promote. Use the hashtags #KidSport & #SoALLKidsCanPlay
Need help with ideas or getting set up? You can contact us at kidsport@kidsportcalgary.ca
OTHER WAYS TO HELP


Join our roster as a corporate partner to help make sure no kids are left on the sidelines this year. Now is the time for your company to join our team and help us mobilize our efforts in getting kids Back To Sport in 2021. An investment in KidSport Calgary and our Calgary Flames Sports Bank is an investment in a local child's physical and mental wellbeing. It is an investment in their future and the future of our community. In addition, your contribution in a direct investment in our local sports economy as dollars are directed to sport clubs, partners and programs to ensure our families have a place for their kids to play!
Learn more about how you can make an impact or see our sponsorship packages here.
Need more information or want to talk with us directly? Call us at 403-202-0251 or email Kevin at kevinw@kidsportcalgary.ca