THIS HOLIDAY SEASON, BRING IT FULL CIRCLE AND GIVE THE GIFT OF SPORT
It's that time of year again, time to Give the Gift of Sport in our eleventh annual fundraising campaign!
Give the Gift of Sport is our annual holiday campaign that raises awareness and funds to help under-resourced Calgary & Area youth participate in organized sport. This year's campaign launched November 15, 2022 and will run through the holidays until January 6, 2023.
KidSport Calgary is calling all Calgarians to Give the Gift of Sport and help us raise $50,000 to get more local kids off the sidelines and into the game in 2023. This extra support will set our 2023 year off to a solid start So ALL Kids Can Play!
Every donation counts and will help make a difference in the 1-in-3 children's lives who cannot participate in organized sport due to financial barriers. Everyone is invited to help change this statistic by visiting our donation page to contribute. You will be giving a gift that lasts well beyond the holidays.
Corporate and tribute donations are also an option, where you can make a donation in honour, memory, or celebration of someone.
Help us spread the word on social media by joining the holiday conversation on Twitter @kidsportcalgary and posting on Instagram @kidsportcalgary with #GiftofSport and like us on Facebook.com/kidsportcalgary
WILL YOU GIVE THE GIFT OF SPORT THIS HOLIDAY SEASON?
Help us make it so ALL kids get to experience the positive benefits of sport!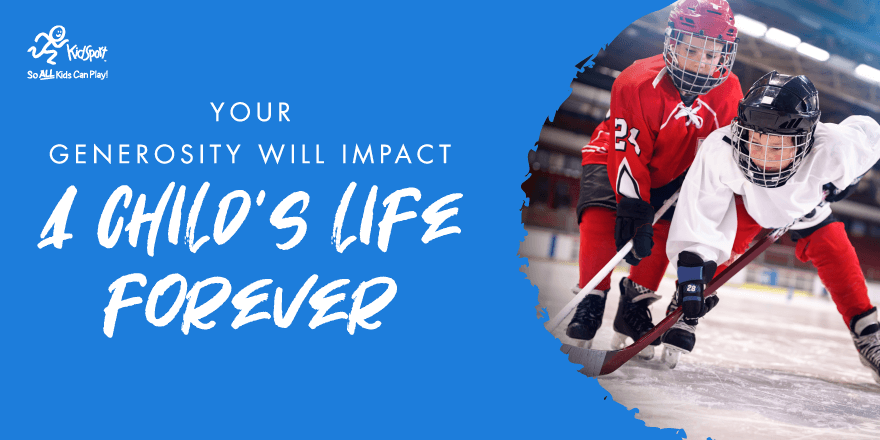 There are so many ways you can make it So ALL Kids Can Play! Find your way and help get kids off the sidelines and into the game this holiday season!
Gifts That Give Back
Friday Sock Co. kids' socks and adult socks are the perfect stocking stuffer! These socks will keep your feet warm year-round and 50% of the profits are donated So ALL Kids Can Play!
Give the beer lover in your life a Cold Garden Growler this holiday season! Give their taste buds a treat and give local kids the chance to play! * Available in the taproom
Different Ways to Donate
Turn your empties into sport opportunities! Have the KidSport Recycling Program pick-up your empties from your doorstep and see the proceeds go towards getting deserving kids off the sidelines and into the game!
Head down to South Centre Mall starting November 29th and be part of the Giving Machine experience.  Canada's first opportunity to host one of these amazing machines!
Order online from Bro'kin Yolk! 3% of your takeout order placed on their website will be donated.
Get your skates sharpened at B&P Cycle and Sports Excellence.  $1 from every sharpening in December will be donated to KidSport Calgary and the Calgary Flames Sports Bank!
Stop in to the Under Armour store at Cross Iron Mills to do some holiday shopping.  When you hit the check out you will be asked if you want to add a donation for KidSport!
Host a team builder, team party, or staff outing at Zero Latency on Tilt! Use promo code KIDSPORT10/10 when booking to save 10% and see 10% donated to KidSport.
Get your equipment cleaned at the Flames Sports Bank! We all know the smell of equipment after a hard skate or a day spent on the gridiron... Fortunately for you, we are offering 30-minute sanitization sessions with our NHL, NFL, and MLB endorsed Sani Sport Supreme Station for just $30! All proceeds are donated to help get kids into gear! Learn more or book here.
Do you donate through the United Way? Did you know you can direct those funds to a charity of your choice? Fill out the form below and submit it to your United Way rep in your office to see your contributions support KidSport Calgary.
Donate your Aeroplan Miles to give the gift of sport!
Support a fundraiser while shopping at Mabel's Labels! Choose KidSport Calgary as your charity-of-choice and then start adding to your cart!
When you sign up for electricity services with Spot Power, a portion of the money you pay for your electricity consumption each month will go directly back to KidSport Calgary. You are already spending money on your electricity, why not have some of that money be used to help get more local kids Back to Sport?
Transfer Securities. By donating appreciated stocks, mutual funds, or stock options, you pay no tax on the capital gains and receive a tax receipt for the fair market value of the securities.