There are many ways an individual, organization, or group can raise funds for KidSport. Check out our Third Party Fundraising Toolkit to find out more!
KidSport is also a great way to bring your workplace together through initiatives such as jersey days, fantasy sport leagues and/or office playoff pools.
All funds raised stay in the community to help local kids play sport.
The first step is to complete our Fundraising Agreement
For any questions, email: admin@kidsportedmonton.com
Thank you for your support!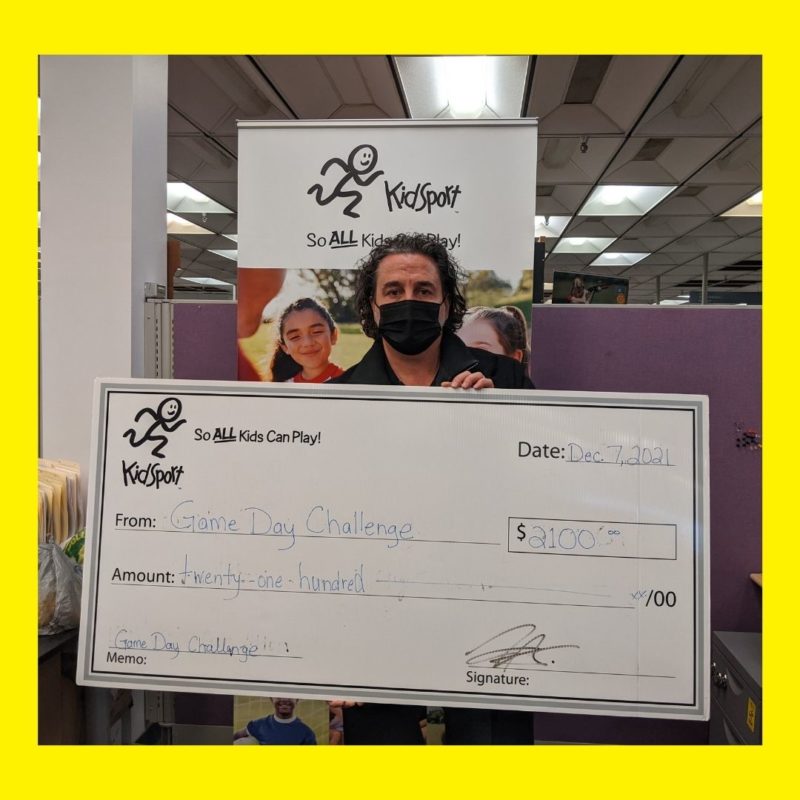 Game Day Challenge generously raised and donated $2100 from their branded toque sale fundraiser. Thanks, Sergio!
KidSport Edmonton exists because of our incredible partners and enthusiastic volunteers. Whether you're an avid sports fan, believe that health and wellness are critical to childhood success, or simply want to make your community a better place, we want YOU on our team.
We are continually searching for volunteers to assist in a number of essential roles,  in a variety of fun events and activities throughout the year. Opportunities range from one-off support at our fundraising events, to strategic positions on our chapter committee. You can even volunteer to plan your own fundraiser, and really get into the spirit of KidSport!
If you're interested in being part of this enthusiastic Team that is working towards making it, 'So ALL Kids Can Play!' then what are you waiting for?!
Reach out and connect by sending an email outlining your interest to edmonton@kidsport.ab.ca , or give us a call at 780-803-8765 . Thanks for your interest in supporting our cause!
Did you know…
If your sport club has remaining cash in your accounts at the end of the season/year, you can donate it to KidSport and we will recycle the funds to put KidSport kids back into the game?! Better yet, we will use the dollars donated by the sport club to place KidSport kids into that sport i.e., when a hockey team/club donates, then next hockey season... their donation goes towards subsidizing KidSport kids' registration fees to access hockey.
If interested, next steps are to connect with KidSport Edmonton to discuss the donation process and discuss ways to highlight your gift in the community.
Email edmonton@kidsport.ab.ca if you have any questions.
PREFER TO DONATE OFFLINE?
Download and send in the KidSport Donation Form. Our CRA Charitable registration number is 86212 5986 RR0003.