We provide grants to help cover the costs of registration fees so that all kids aged 18 and under in Williams Lake can play a season of sport.
Our chapter accepts applications and administers grants of up to $300 per child/year, for kids who live in Williams Lake, or in one of the surrounding communities we serve. If you live outside of Williams Lake please contact the Provincial Office to find your nearest chapter, or to get support through the Provincial Fund.
Cariboo-Chilcotin Gymnastics Assoc & Williams Lake Gymnastics Club - Check us out on Facebook.
Williams Lake Bighorns Lacrosse - Check us out on Facebook
When our next event is planned we will promote it here, as well as on Facebook and Twitter. Stay tuned ....
Granted to kids in Williams Lake in 2022.
Kids helped off the sidelines in Williams Lake last year.
By supporting KidSport we all win. When kids have access to sport they improve in school, become stronger leaders, create safer communities, ignite inclusivity and fuel healthy habits for life.
We are so pleased that since the post pandemic "return to sport" has occurred we've experienced a significant increase in community applications and in our opportunity to help local families have their children included in local sports.  In 2022 we increased our funding by over 500%, which is fantastic!  We are here to support families in our community, and clearly it is needed and we've been able to help.  We pay so kids can play!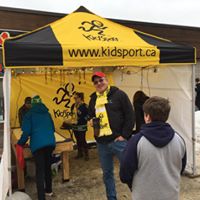 KidSport Williams Lake is made possible thanks to passionate volunteers and our incredible partners. Together we're making it so no child in Williams Lake is left watching from the sidelines.
I am so honored to be a member of the KidSport Williams Lake Chapter!  I've been an active athlete all my life and was a PE educator for over 36 years.  From these experiences I know how important it is for children to be active and I've personally witnessed the need for financial help that exists in our community.  Being involved in KidSport Williams Lake gives me the opportunity to help families ensure their children stay active, healthy, and involved, which is so important to developing positive healthy living habits.  It's also extremely gratifying to see that our community actively supports these same goals and gives so generously to the KidSport Williams Lake Chapter.  I speak for all of our wonderful volunteers when I say "Thank-you" to our community, and good luck to our youth in their sport activities!
Elaine Sager - Registrar
Mike Franklin - Treasurer
Angela Lake - Assistant Treasurer
Jennifer Hack - Secretary
Fraser Bjornson - Facebook Manager
Chelsea Hamblin - Member at Large
Mark Carter - Member at Large
Helena Morgan - Member at Large
Derek Godin - Member at Large